Buck Naked is Barenaked Ladies' very first demo tape, recorded when the band consisted solely of Steven Page and Ed Robertson. It was recorded and released in four different incarnations between the beginning of the band's career in October 1988 and the addition of Jim Creeggan and Andy Creeggan to the lineup in December 1989.
Track listing(s)
Edit
1st version:
2nd version:
3rd version:
4th version: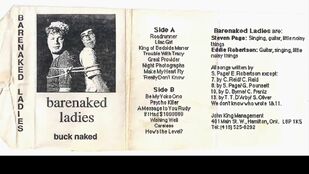 Notes & Trivia
Edit
Ed has claimed that about 500 copies of the tape were made in total, while Steve has said the number is closer to 150.[1] The MYSD.org discography claims 250 copies were made.[2]
The Buck Naked version of "Great Provider" was later included as a B-side on the "Jane" CD single in 1994.

Barenaked Ladies - Buck Naked (1989 Demo Tape) - NEW RIP 2018

The first version of the tape credits Steve with playing the sitar and Ed with playing the tablas; both are instruments usually heard in Indian music. The liner notes also carry the message "This is the kind of Christmas present you receive from a poverty stricken barenaked lady", and the second side of the tape includes most of The Police's 1980 album Zenyatta Mondata. [2]
Low-quality MP3 bootlegs of the tape circulated on the internet for years before BNL bootleg curator Macoland and a person named Peter (screen name "waymu") released lossless audio files sourced from an original tape in late July 2018.
References
Edit
Community content is available under
CC-BY-SA
unless otherwise noted.