The Juno Awards are an annual series of awards presented by The Canadian Academy of Recording Arts and Sciences for achievements in the Canadian music industry and are often referred to as the Canadian equivalent of the Grammys. Barenaked Ladies (or individual members) have received a total of 20 Juno nominations and have won 8. They also acted as hosts of the televised ceremony in 2002 and were honoured as inductees into the Canadian Music Hall of Fame in 2018.
Juno Awards and nominations for Barenaked Ladies & associates
Edit
Awards won are in bold.
Group of the Year
Recording Engineer of the Year (Marc Ramaer, "Jane")
Best Group
Best Pop Album (Stunt)
Best Single ("One Week")
Best Songwriter (Ed Robertson, "One Week")
Best Album Design (John Rummen & Jay Blakesburg, Stunt)
Notable Juno performances and appearances
Edit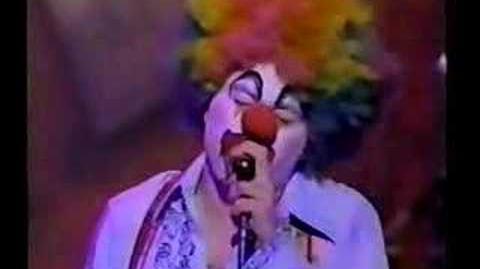 BNL were nominated for four Junos inn 1993, winning one for Group of the Year. The telecast featured a memorable performance by the band, in which they played "Box Set" in full clown makeup.
Though they weren't nominated that year, BNL performed "Get in Line" on the telecast, featuring several backup dancers and actors dressed as Mounties.
The entire band acted as hosts of the Junos broadcast in 2002, performing several songs and skits; as their intro song notes, they weren't nominated that year either.
As new inductees into the Canadian Music Hall of Fame for 2018, BNL were honoured at that year's Juno Awards; Geddy Lee of
Rush
inducted the Ladies during the televised ceremony at Rogers Arena in Vancouver. Steve appeared and performed with BNL for the first time since leaving the band in 2009, closing out the broadcast with renditions of "
One Week
" and "
If I Had $1000000
".
Community content is available under
CC-BY-SA
unless otherwise noted.